Importance of Learning and education in foundation years
The early years are a very important period for learning and education. It is important to set a strong foundation during this time to prepare them for the future. The lessons children learn when they first step into a school are lessons that stay with them for life. Many children are uninterested in going to school in their early years. But with the right programs and the right mix of play and learning, children will start developing a yearning for education. The interests they develop in the subjects, whether it is numbers or language will help them keep up an interest in the primary and higher education period. Parents often give priority to building a strong foundation at home for their children from their early years so they can carry the habits and the lifestyle they practise during these years as they grow older. Similarly a strong foundation has to be built in the child's early school years so they can carry the lessons and learning habits with them as they grow older.
The foundation years are not only important for learning but also for helping children develop their –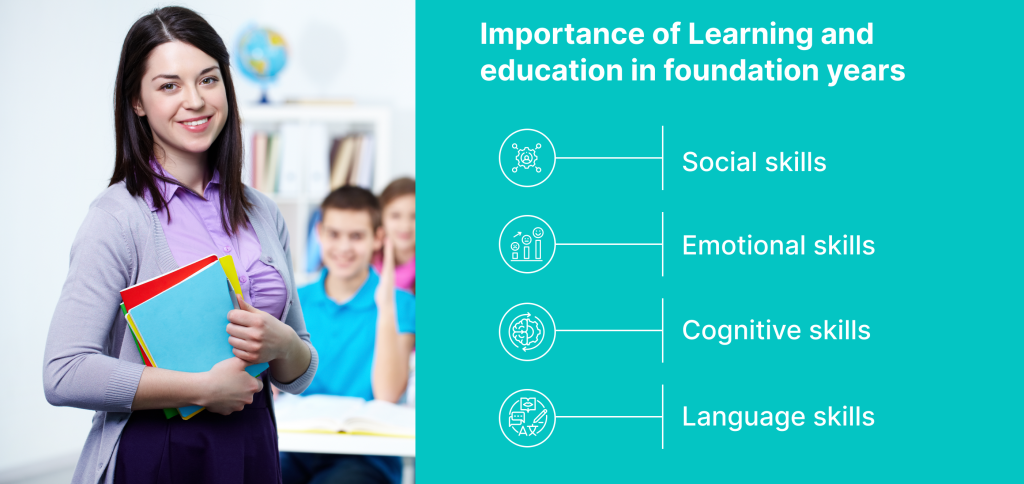 1. Social skills
It is important for children to learn to interact and socialise with other children and teachers. Learning together in a playful environment makes the early school years exciting and memorable for the young one.
2. Emotional skills
A child can be taught in his or her early years on how to practise empathy to those around them. They can be taught to develop confidence and value. Children can learn about different emotions and learn how to recognise and manage their emotions. They can be taught about emotions such as surprise, shyness, sadness, shame, guilt, pride and empathy.
3. Cognitive skills
Cognitive development such as reasoning, exploring, memory, problem solving and thinking skills. Children develop cognitive skills in their early years through activities such as arts and crafts, puzzles, sorting shapes and sizes and going on field visits among other things.
4. Language skills
Reading books and sharing stories helps develop a child's language skills. Developing reading habits in early childhood are very important and this can happen with the help of skilled educators who make reading a fun activity for the children. Simple word games can also be played to learn more about different words and the correct way to use them.
Different Programs offered across
Montessori Method
If you have a child, you might have looked into the top Montessori schools in Bangalore. The montessori method is a type of learning process that is fun, intuitive and interactive. Children are encouraged to develop creative choices while engaging in their fun learning activities. Dr. Maria Montessori, an Italian physician and anthropologist found that this method of learning helped children develop a clear understanding of language, mathematics, science, music and social interactions. The learning methods and materials used in the Montessori style of education were designed over a period of many years by Dr. Montessori.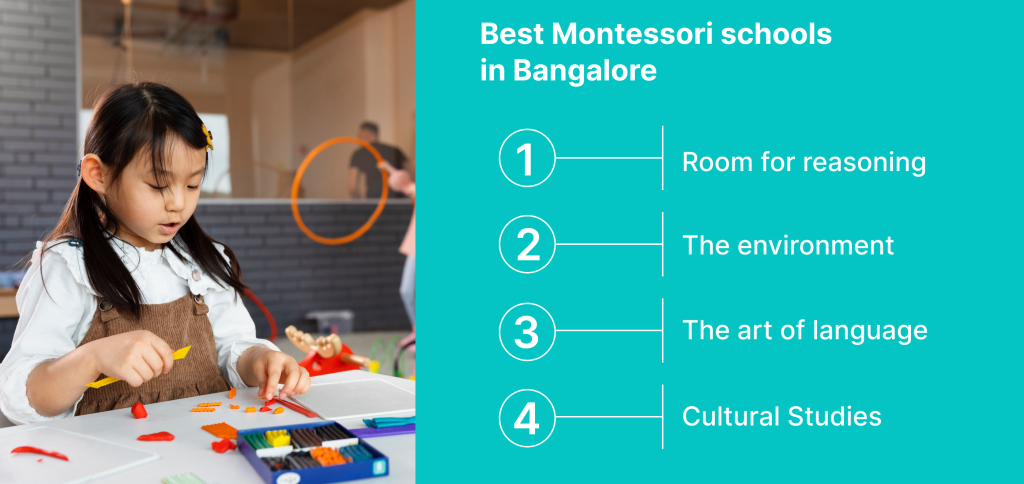 The children are encouraged to reason and think on different topics and to discover the answers for themselves. This helps them to cultivate a deep learning experience and a curiosity for knowledge.
The environment of elementary Montessori schools in Bangalore are designed in such a way that the child's interests in learning are peaked. The activities and tools available help develop the child's cognitive, physical, social and emotional skills.
Children are taught about letters and phonic sounds through reading programs. Story books, paper and writing implements, sandpaper letters and other activities will help the child be familiar with the use of language and speaking in the Montessori method.
The Montessori classrooms in Bangalore are not limited to learning about alphabets and numbers, children are also taught about different cultures and traditions. With the use of maps, flags and globes as well as different artwork and sensory instruments, children can learn about the different cultures of the world.
Kindergarten Method
The Kindergarten method was a system of learning put forward by Friedrich Frobel. He established the first kindergarten school in 1837 in Germany. Kindergarten which points towards a 'child's garden' aims to establish the concept of children being in a garden where the teachers tend to them as gardeners. The teachers help these children to grow and bloom with the nourishment they need to become learned and mature. The kindergarten method focuses on the all round development of a child through a thriving learning environment.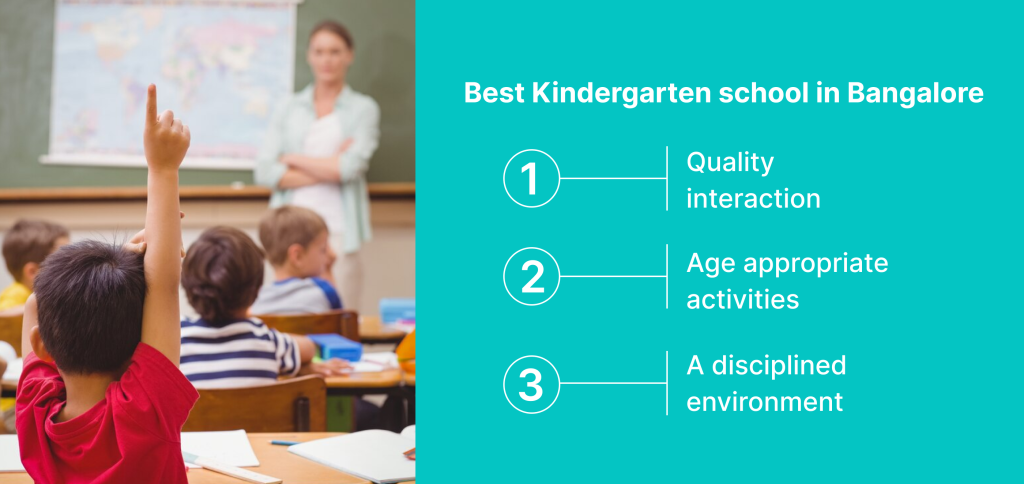 An environment is encouraged for quality interaction between students and the teachers. Ample time and attention are given to each student to understand their weak points and strong points. This helps the child have a balanced learning of all topics with time.
Age appropriate activities
Age appropriate activities are organised where a child as per his/her age is made to take part in activities that will help them learn and increase their knowledge. These activities not only help them learn but they are designed in a way to make learning fun so the children's interests are engaged.
A disciplined environment
In the Kindergarten schools in Bangalore, the children are taught to practise discipline by following routines, such as learning, playing and nap time routines. Such an environment helps them to practise stability and discipline in their daily life.
Major Differences in Kindergarten Method and Montessori Method
These are some of the major differences that can be found between the Kindergarten Method and the Montessori methods of learning –
The kindergarten method of learning is aimed towards children of around 3 to 5 years. The kindergarten method forms the basis of their primary education in this crucial period. On the other hand, the Montessori method is aimed towards children of around 3 to 6 years old. The Montessori method is optional and can be continued for children below six years with options such as Montessori secondary programs for middle and high school students.
The curriculum of the two methods have some differences. In the kindergarten method, the teacher has a set role to play. A routine and a system of teaching is followed by all teachers for the students. While in the Montessori method, the system of teaching is unstructured and the teacher can go out of the box while educating each child. The aim of the kindergarten method is to make learning a fun process for children and keep them engaged while gaining knowledge. While the aim of the Montessori method is to inculcate the practice of natural learning through curiosity and reasoning lessons.
In the Kindergarten method, there is a set learning pace for all the students. The students follow as per the curriculum and routine set by the school for their lessons and learning activities. While, in the Montessori method, there is no set learning system. The learning pace followed is the learning pace of the child. The children are kept at the focus and encouraged to follow a routine that is suitable to their learning capability.
What CMR NPS Offers
While there are many Montessori schools in Bangalore and also many Kindergarten schools in Bangalore, the CMR National Public school stands out for its refined curriculum and teaching system. What makes the CMR National Public School the best preschool in Bangalore is that it follows a system wherein the pre-primary level children are mentored and nurtured in a holistic learning environment.
The school offers both the Montessori and Kindergarten method of education.
In the Montessori method, there are five environments for mixed groups of children aged 2. 5 to 5.5 years. In each of these environments, there are 30 children with two adults. Children are given due attention and care needed with one adult looking after the learning process of 15 children each.
Under the Montessori method, programs such as puppetry and storytelling are put to use to capture the child's wonder and imagination. Children are introduced to subjects such as language, Mathematics, General Knowledge and Arts through interactive learning sessions.
The kindergarten method offered at CMR National Public School is a 2 year program aimed at children from 3.5 to 5.5 years. In this method, self activity, creativity and social participation are encouraged among children. An environment is created where children can learn in a fun way through playing, singing and practical activities such as drawing and writing.
Under the Kindergarten method, children are made familiar with numeracy, Mathematics, cursive writing and letter recognition among other subjects under watchful care and guidance of the teachers.
A playful environment
Various facilities as given below help create a playful learning environment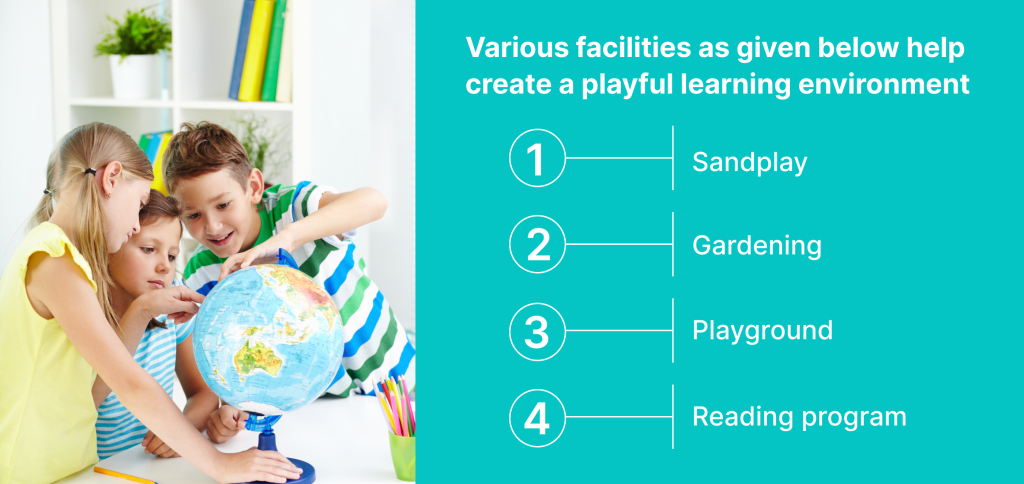 Sandplay is important in developing motor skills and sensory skills. The child is made familiar with the sense of touch, pressure and temperature. It also helps them develop motor skills and work on their hand-eye coordination.
Children are encouraged to take up gardening activities. Many children delight in playing around with sand, planting seeds and watching their plants grow. It is a learning technique that is full of adventure and growth.
The school has a well-maintained playground with various activity choices which will help children build their strength, coordination and stay fit and healthy while having a fun playing session with their friends.
A well planned reading program undertaken under the efficient watch and care of teachers helps invoke an interest in reading in the child. Stories are made realistic with actions and the use of figures and pictures which delight the children as they learn new words.
Apart from Program what to look out for in CMR National Public School
CMR National Public School would be the ideal pre-school in Bangalore for your young child, as it offers courses upto senior school. Your child will get the opportunity to be groomed under a highly trained team of educators from pre primary to primary, to middle school and senior school.