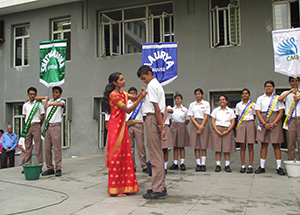 Motto: Red Essential. Limitless Potential.
Red is the symbol of love, courage, sacrifice, victory and honour. Students of Red House stand strong and united at all times. They are creative and highly talented and this is the secret of their success in various inter house competitions like Basketball, Debate, Face painting and Floral Rangoli. The Hoysalas are enthusiastic and achieve their goals, thereby upholding their values always.
Students of Red house are known for their togetherness, and face adversities as a team. They are the jacks of all trades performing to the best of their abilities in sports and cultural events.